1. Is it possible to pay in cash?
Yes, if the reservation is made on that day. We request you to pay online for advance reservations.
2. Do the program prices include all the ingredients?
Yes, they do…plus free green tea!
3. Does getting to the kitchen involve any steps or stairs?
No. The kitchen is located on the 7th floor, but there is an elevator.
4. Do we have to take our shoes off?
Yes, we ask you to remove your footwear and provide you with comfortable slippers. This is a regular custom at Japanese homes. The slippers are for use in the kitchen, but have to be removed when you enter the tatami-mat room. This is a chance to experience a typical Japanese apartment.
5. Do we have to sit on tatami mats to eat the dishes?
No, only of you want to! We also provide a table and stools.
6. Do you have toilet facilities?
Yes, we have a spacious Western-style toilet and a place for washing your hands.
7. Do we have to use chopsticks?
We recommend using chopsticks and will gladly demonstrate how to use them properly. We will also show you how to use longer cooking chopsticks during the session. However, cutlery is available if you prefer not to use chopsticks.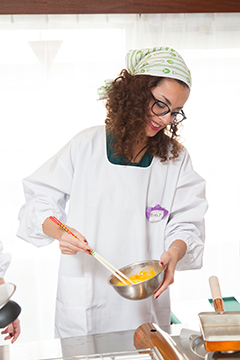 8. It seems that you use some special pans and utensils. Is it possible to buy them?
The kitchen is located very close to the Kappabashi shopping area, and we can recommend stores where you can acquire all the items we use.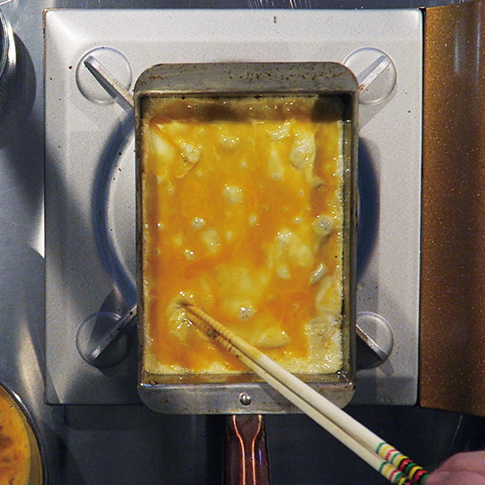 9. Will the instructor be a man or a woman?
We have both male and female instructors, sometimes working together. Please let us know if you have a particular request. The instruction will be basically in English, but will introduce various Japanese terms.