Do you know what NANKIN TAMASUDARE is?
It's a traditional type of street performance born in Japan that's been handed down from the Edo period (1603-1867). The performer holds a special screen made from bamboo sticks 20-30 centimeters long that are loosely woven with twine. This is rapidly twisted, folded and extended into various shapes while the performer chants an amusing poem describing the items to a distinctive rhythm. Among the many items portrayed are TAI (sea bream), Tokyo Tower, NIJI (rainbow) and KOKKI (national flag).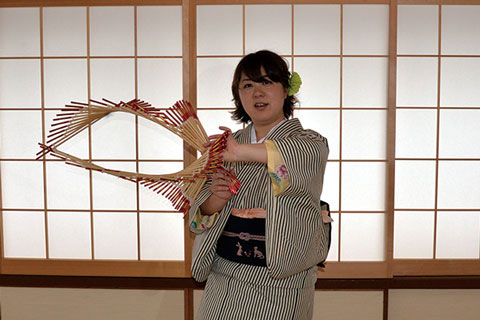 Seabream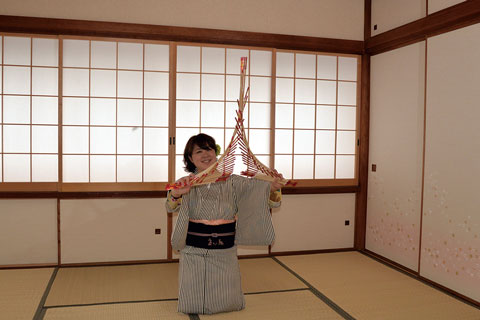 Tokyo Tower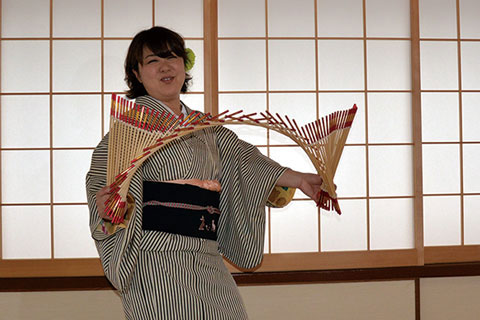 Rainbow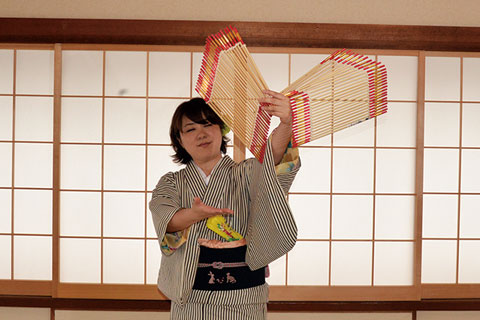 National Flag
Yoyo's Nankin Tamasudare Workshop
We offer you the rare chance to join a fun-filled workshop led by the professional performer Yoyohime. After a private performance especially for you in a tatami-matted room, you can have a hands-on experience yourself with her guidance. You can even change into the special costume and immediately turn into an old-time street-performer….and, of course, take some commemorative photos.You can also enjoy other traditional entertainments like spinning a plate on a stick, playing beanbags, and making origami (the art of paper folding). We hope this will serve as a wonderful memory of your visit to Asakusa.
Fee ¥5,000(Adult) ¥2,000(Children 15 and under)
Time About 2hours